Ongoing Social Initiatives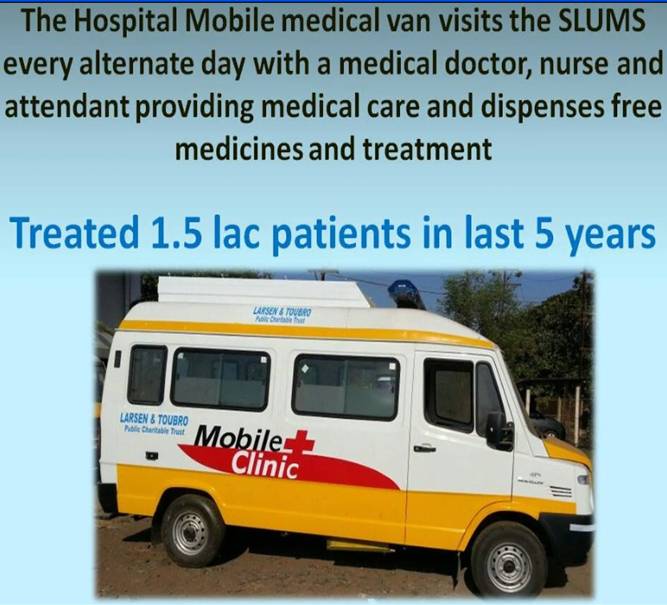 The hospital has tied up with L&T Infotech (Public Charitable Trust) and holds free medical health camps at various locations including villages and in schools of the underprivilidged. Free medicines are also distributed through this mobile van. The charity has picked up once again post COVID 19 lockdown and has reached approximately 65,000 benefeciaries so far in the year of 2022.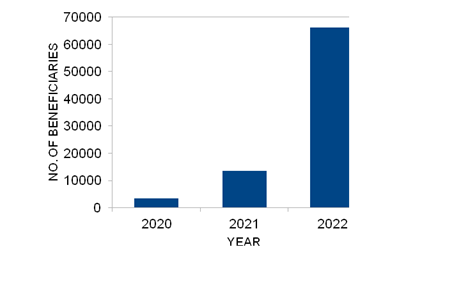 Past Social Initiatives
Concor Airlines Camp
Brahmakumaris' Global Hospital & Research Centre organized a Free Health Camp for the ground staff of Concor Airlines at The Santacruz Airport in Mumbai in Association with Mahavir International Group- Delhi.
The camp comprised of free registrations, free BP, BMI and Random Blood Sugar Check ups.
The beneficiaries were free to get consultations from various doctors present. The hospital was represented by many departments: some of them include- Check up by General Physicians, Ophthalmologist, Optometrist, Dental, Orthopedic, Physiotherapy, Cardiac and check up by gynecologists.
The total OPD accounted for 1152 beneficiaries
Shiv Sena Camp
Our participation in the Shiv Sena Camp held on 31st July was quite successful.
Brahmakumaris' Global Hospital and Research Centre managing BSES MG hospital participated in a large Free Health Camp organized by the Shiv Sena to celebrate the 62nd Birthday of the former Chief Minister of Maharashtra Shri. Uddhav Thackery. The camp in Andheri (W) was held in 7 locations from 9 am to 3 pm on Sunday, 31st July 2022.
Modular OT Inaugration
INAUGURAL CEREMONY OF MODULAR OPERATION THEATRE COMPLEX AT BRAHMAKUMARIS' GLOBAL HOSPITAL & RESEARCH CENTRE MANAGING BSES MG HOSPITAL
The formal Inaugural Ceremony of fully renovated Modular Operation Theatre Complex at Brahmakumaris' Global Hospital & Research Centre Managing BSES MG Hospital, Andheri (W) was held on 29th May, 2022. This state-of-the-art OT complex was inaugurated by District Governor, Shri Rajendra Agarwal, of Rotary 3141 at 10:00 am on 29th May, 2022 along with Ms. Shehnaaz Gill, Guest of Honor, B.K Yogini Didi, Hon. Director GHRC BSES MG Hospital, B.K Meera Didi, Director Brahmakumaris Santacruz Subzone, Rotary President Bharat Dhanki and other dignitaries.
The project was initiated by President Bharat Dhanki, of Rotary Club of Bombay Airport and houses four state-of-the-art Operation Theatres, a doctors room, a scrub room and a post-surgery recovery room; supported by their donors.
B.K. Yogini Didi, Hon. Director BSES MG Hospital and Trustee Global Hospital & Research Centre, Mt Abu; B. K. Meera Didi, Brahmakumaris Santacruz Subzone and Trustee; Ms. Shehnaaz Gill, Guest of Honor, President Bharat Dhanki ,of Rotary Club of Bombay Airport , CDG. Rahul Timbadia, Medical Director Rahul Patel, Donors and Rotarians from Rotary club of Bombay Airport were present at the inauguration ceremony. The function was also attended by the entire staff of the Operation Theatre along with Doctors and HODs. President Bharat Dhanki expressed his gratitude in being associated with the ongoing contribution of the Brahamakumaris' GHRC BSES MG Hospital's noble work towards patients of all socio economic backgrounds.
The new OT complex—built over 3300 square feet and equipped with modern equipment is an initiative to offer a wide range of safe and effective surgery to patients. Each modular OT is equipped with laminar airflow systems with HEPA filters, ceiling-mounted pendants, and antistatic and antibacterial flooring. The OTs have requisite medical equipment, patient monitoring systems, , LED surgical lights, state of the art OT tables and operating microscope in the operating rooms which are second to none. High quality HVAC system with temperature and humidity control, MGPS (medical gas pipeline system), OT control panel and door hermetically sealed doors add to the efficacy of the OT complex. These facilities will provide the most conducive environment for all major surgeries with least probability of infections and elevate the levels of patient care
B.K Yogini Didi, said that the new complex will radically enhance the quality of service to the patients. "The well-designed operating rooms," she said, "shall improve the safety, speed and efficiency of the surgery."
Speaking of the necessity to continuously upgrade the hospital, B. K Yogini Didi said that the Hospital is undergoing major modernization works to enable the institution to respond more effectively to the challenging demands of the healthcare. Dr. Narayan Khadelwal, Medical Superintendent, GHRC BSES MG Hospital said "the new modular OT with laminar air flow will enable us to perform all kind of surgeries from major to minor in a better way with good outcome".
GHRC BSES MG Hospital provides all kind of surgeries like Oncosurgery, Urosurgery, Knee and Joint Replacement, General Surgery, ENT and Ophthalmic Surgeries and many patients will be benefitted by this arrangement.