Pathology
Lab Medicine
Biochemistry
Microbiology
Immuno-Serology
Hematology
Histopathology & Cytopathology
The pathology lab was opened in May 2002, financed by C. L. Parikh Foundation. Initially, the lab had four sections of Haematology, Clinical Pathology, Biochemistry and Serology. The first automated machines that the lab used were a Beckman – Coulter Counter and Biochemistry semi auto analyzer. Over the last four years, the laboratory has undergone a sea over change with addition of latest technological equipments' .
Microbiology and Histopathology with Cytology are additionally included to the existing ones.
Advanced Equipments Installed
Hematology : 5 part Fully Automated Blood Cell Counter from Beckman-Coulter.
Coagulation Profile : Semi automated Coagulometer from Stago Diagnostics.
Biochemistry : Fully Automated Dry Chemistry Analyzer, Vitros 250 from Ortho-Clinical Diagnostics.
Histopathology : All surgical biopsies as well as major operative tissues are processed inside the lab. The machines installed are Microtomes and Autotechnicon. Tissues are processed in the laboratory itself. The lab is equipped to give the results within four days.
Microbiology : All fluids can be analyzed for finding out the presence of bacteria, fungi, etc.
Cytopathology : Vaginal Pap smears, Fluid cytology for Malignant cells and FNAC (fine needle aspiration cytology) are processed with reports being handed over within 4-6 hours.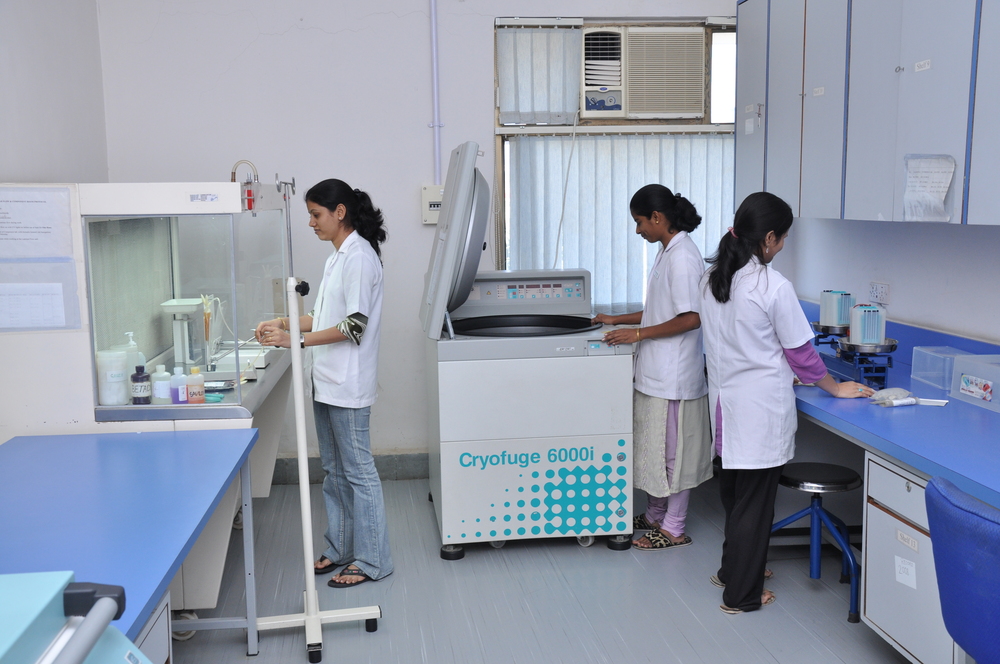 Imaging
A lot of emphasis is laid on diagnostic and prognostic evaluations in the modern-day clinical medicine. This may be obtained through non-invasive investigations only. The year (2005 – 2006) has been very eventful for the department of imaging at the Brahma kumari's Global hospital. Computerized Radiology (CR) system, was installed in the Department of Imaging in May 2005. The suave CR system significantly improves and speeds up radiology imaging which significantly saves time both for the patients and the doctors as well. The results of the diagnosis can be obtained quickly. USG is digitalised. The patients are now given a digital film with multiple (15-24) images.. Films of different sizes are available and patients may choose and request the film size they need. We have linked the CR system to the ICCU through the intranet.
A Colour Doppler ultrasonogaphy machine was installed in May 2006, to meet the growing demands. This machine facilitates the evaluation of the blood vessels in the human body.
Certain other investigative facilities offered by radiology and imaging department of Brahma kumari's Global hospital include: