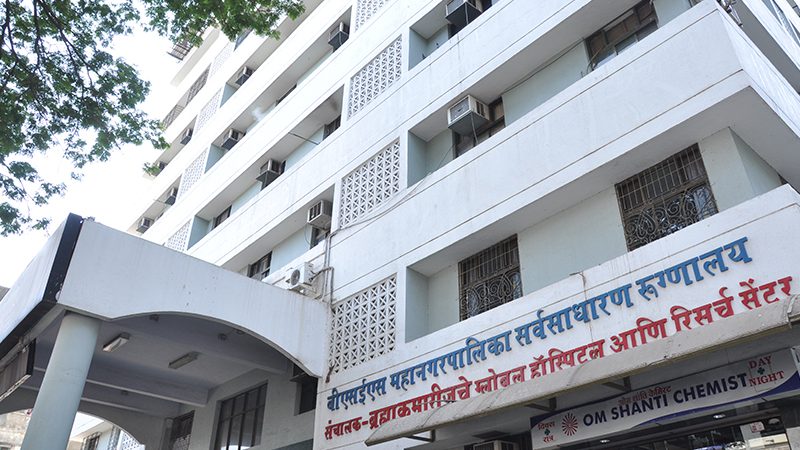 BSES MG HOSPITAL

Brahma Kumaris Global Hospital and Research Centre, managing the BSES MG Hospital is located opposite Andheri Railway Station, in the heart of the city. It is easily accessible from various parts of the city. Hospital is close to both, the domestic and international airports. It presents a new model of health care, offering a judicious mix of spirituality and modern medicine.
We believe that a healthy body is not possible without a sound mind or spirit. Our dedicated and spiritually empowered staff provides a peaceful environment, which helps quick recovery of patients. The 100 plus bedded hospital is equipped with 22 intensive care, 10 ICCU & 4 HDU & 6 Neonatal beds. The hospital provides almost every type of service, in the fields of diagnosis, investigations, treatment and rehabilitation. Other facilities include a Day Care centre, Specialty Clinics, Sports Medicine centre, Executive Health Check up.
Our Mission – Global Hospital & Research Centre is dedicated to promote positive health by incorporating spirituality in modern medical practice and create a spiritual model of health care.
Our motto is 'Healing with a Spiritual Touch. We are well equipped with state of art technology and has a dedicated team of nurses and doctors, who provide 'Medication and Meditation.

Our Philosophy
Every employee contributes to their optimum potential.

Our motto
'Healing with a Spiritual Touch with the art of technology
OUR PHILOSOPHY?
Every employee contributes to his / her optimum potential.
We provide excellent medical care in a congenial environment through spiritually empowered staff. We also offer meditation, positive thinking and spiritual counseling.
We encourage positive attitude and team work with good sense of humor. An appetite for learning at every step and from every person is another trait essential for anyone working at our hospital. One of the best things about working here is easy interaction with superiors who are always ready to guide & help. The environment is quite friendly and enthusiastic which gives you an opportunity to experiment with new ideas and learn in the process.